The Face Shop Ramadan Magazine
Posted by BAHER PHILIP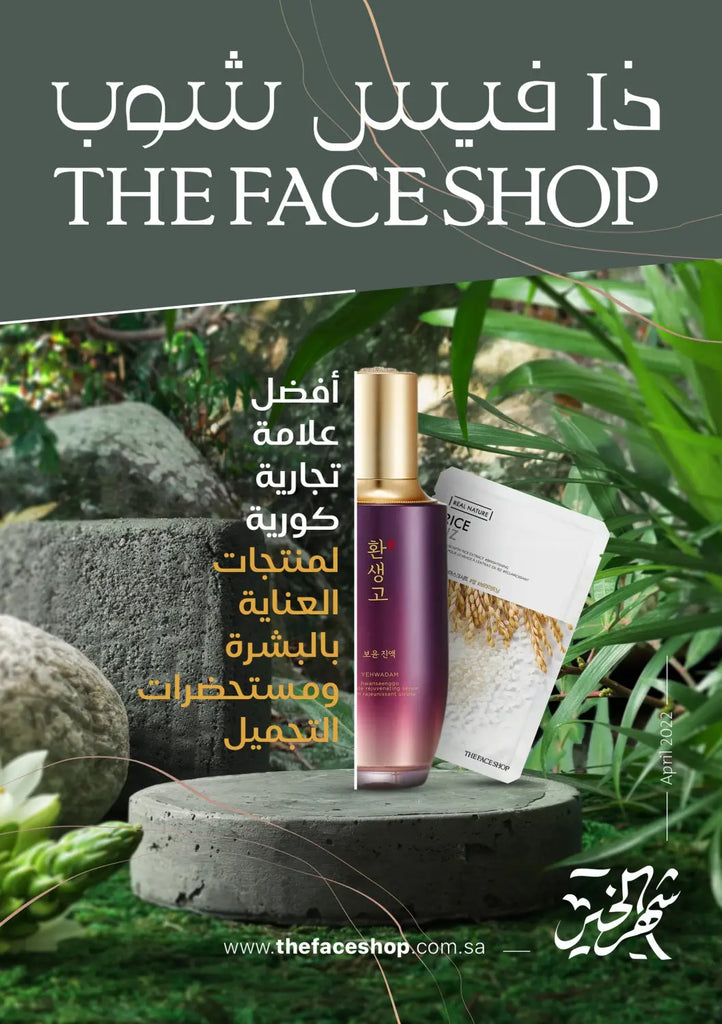 Content:
The importance of moisturizing the skin during fasting and the most important products to maintain it.
How do you know your skin type and choose the right products for it?
Don't forget to use sunscreen.
The appropriate morning make-up for the holy month.
Premium perfume products.
Get to know our new products.
Holy month collections and gifts
The importance of moisturizing the skin during fasting
Recommended Products
During Ramadan, you may need more skin care, because long periods of fasting lead to the skin losing its moisture and signs such as:
The appearance of dark circles around the eyes, and the eye area can be taken care of and moisturized through the mask of Dr. Derma Collagen Eye Patch Polymer Yehudam Hwansango Ultimate Rejuvenating Eye Cream (a nourishing eye cream to provide instant moisture and improve elasticity around the eye area, helps conceal dark circles and reduce wrinkles under the eyes.
Stay away from the sun :
Exposure to the sun directly contributes to the damage of your skin, so try to avoid walking in the sun, and apply sunscreen when leaving the house. This is an essential part of skin care in Ramadan. You can use Super Perfect Sun Cream , Natural Sun Eco Cream .
Make sure to moisturize your skin more than any time of the year, so moisturize your face twice a day in the morning and at bedtime, and you can also use a moisturizing spray that increases the moisture and freshness of your skin, like Dr. The Daily Repair Moisturizer is a polymer , and you can use masks, creams, and moisturizing toners, such as The Solution Double Up Moisturizing Skin Mask.
, Calendula Essential Moisturizing Serum, Real Nature Face Mask / Jeho Aloe Fresh Sizing Gel / White Seed Moisturizing and Brightening Set.
You can use a gentle and moderately moisturizing lotion for the skin in a day, such as the All-in -One Cleansing Foam, suitable for all skin types, which works to moisturize the skin and calm sensitive skin.
Drink plenty of water and fluids after breakfast.
How do you know your skin type and choose the right products for it?
It is the skin that contains a balanced proportion of water
And oils.
Normal skin manifestations:
Smooth velvet skin.
Bright and clear skin - pores are blurred.
This skin needs care to last its freshness.
You rarely feel dehydrated.
You don't have a specific problem.
It is recommended to use the following products:
• Real Nature Face Mask (Potato or Avocado Mask) / Jiho Aloe Fresh Suzing Gel / Ceramide and Rice Set / Moisturizing and Brightening the Skin
White Seed / Natural Sun Eco Cream
v This skin suffers from excess oil secretion, which makes the face annoyingly shiny
The manifestations of oily skin:
wide pores
black heads.
pills.
blisters;
It is recommended to use the following products:
Keep the skin hydrated by using moisturizing masks.
Real Nature Face Mask (raspberry or pomegranate mask) / Dr. Plumer care set / Smart Peeling Scrub
/ Herb Day set to cleanse oily skin.
v Dry skin lacks oils and hydration, so it needs continuous moisturizing and skin cleansers that do not cause a feeling of dryness. If dry skin is not taken care of continuously, it ages before any other type of skin.
v
Symptoms of dry skin:
Scaly patches disappear when using a moisturizing cream.
The texture is soft and often faded.
It has no visible pores.
Delicate expressive lines, especially laugh lines.
It is recommended to use the following:
Pomegranate and Collagen Products / Mask Sheet
Beyond Himalayas Deep Moisturizing Kit
The Therapy Essential anti-aging skin
The Solution Mask / Dr. Plumer Clarifying Collection.
v It is the skin that reacts to external and internal influences.
It can be dry or greasy.
Products designed for sensitive skin should be used because this skin is easily irritated.
Sensitive skin manifestations:
splatter.
visible veins.
redness of the skin;
Itch.
Pigmentation, spots and uneven skin tone.
It is recommended to use the following products:
Dr. Plumer's Advanced Cica Recovery / Beyond Lotus Aqua Plum / Herb Day 365 Cleansing Foam range
Smart Peeling Mold Popeye
Combination skin:
It is a combination of two skin types (dry skin and oily skin), where the skin appears dry or normal in
Certain areas of the face, while appearing greasy and may contain pimples in other areas.
For combination skin:
Shiny appearance in some areas of the face, especially the T . area
Large and wide pores
black heads
Acne and pimples on the forehead, chin or nose
Cheeks feeling quickly
It is recommended to use the following:
Real Nature Face Mask (honey mask or calendula flower mask ) / jojo vulcanic lava for pores / chia seed hydro range .
Don't forget to use sunscreen
Continuous exposure to direct sunlight poses a great danger to the skin of all kinds because of the negative effects of the sun's rays, dark spots and freckles appear on the skin.
Therefore, all cosmetic experts and all dermatologists recommend the use of sunscreen to ensure the health and freshness of the skin and to obtain maximum protection from the sun's rays.
Sunscreen must be used on the skin daily, even on rainy days or while staying at home, as ultraviolet rays penetrate the windows.
Use the protective cream after the moisturizing cream and before you start applying makeup.
Therefore, we recommend using the following products:
. Doppler UV Derma Mineral Sun Stick (a gentle sun cream in the shape of a stick, which is gentle on the skin, making it suitable for sensitive skin and best for outdoor activities.), Natural Sun Eco Super Perfect Sun Cream (Protects the skin from micro-dust and blue light from electronic devices With strong UV protection SPF50 + PA++++. Its light beige shade naturally brightens skin tone for a fresh, healthy complexion. Passed the blue light protection test. )
Common mistakes about sun protection products

q No need for sunscreen when the weather is cloudy or rainy!
Ultraviolet rays do not come only from the horizon, but are reflected from the ground as well, and it is necessary to avoid its reflections, especially from water and snow flats. In addition, it should be noted that window glass does not block the damage of these rays.
The skin is exposed to ultraviolet rays not only on sunny days, but even on fully or partially cloudy days.
q Not putting enough sun protection cream on the skin!
If you are going to be spending a long day at the beach or
You exercise or on hot days, it is preferable to use a waterproof sunscreen so that it does not fade with water and sweat.
q Putting protection cream and exposure to sunlight directly!
The sunscreen needs a time ranging from 25 to 30 minutes, for it to be absorbed by the skin and start to take effect before you go out, so you should waste it before you go out.
Get out in time so your skin can absorb it.
q Apply sunscreen once in the morning and then be exposed to the sun all day!
Reapplying the cream is very important. It should be applied every two hours, four hours or six hours, depending on the protective factor that the cream contains, and also after swimming.
Or heavy sweating or even during hot weather without direct sun.
Morning make-up for the holy month:
In the morning and before leaving the house, everyone starts to wonder how to apply a light morning makeup, especially in the holy month. All you have to do is follow these steps with the proposed products to get an attractive and distinctive look:
First, moisturize your skin with Pomegranate and Collagen Toner suitable for all skin types, then apply Gold Collagen Ampoule base , which in turn will nourish the skin while providing wrinkle care and UV raysHelps brighten and brighten the skin, and get a healthier complexionGold leaves a natural glowing finish upon application. Collagen helps moisturize the skin and improve skin elasticity
2. Apply a BB Cream that is suitable for your skin tone and that contains sun protection factors such as Magic Cover BB Cream ( full coverage BB cream that covers blemishes and makes your skin look naturally flawless.)
3. TFS Doll Fill Concealer ( a duo concealer that contains a stick on one side, and a liquid creamy concealer on the other side to cover skin imperfections easily and for a long time).
.4. Doyle Contour Powder ( easy-to-use powder product that helps to contour the face)
.5 . Pastel Cushion Blusher ( Adds a fresh look with a subtle color and a matte finish with a long lasting hold)
6. TFS Eyebrows Prolasting Powder and Pencil ( 2 in 1 product that contains powder to fill the gaps of the eyebrows naturally and with a look that lasts for long hours, and a pencil to define their shape.
7. Ink Pencil Gel Eyeliner ( features a soft gel texture to get a rich color with one glide).
8. Mascara Gold Collagen Volume Mascara ( a volumizing mascara for eyelashes and giving them a full and attractive appearance).
9. TFS and Tri - Tint lip colors ( a group of water-based lip tints that give lips a matte look and intense color that stays put for long hours).
Premium perfume products
Enjoy a group of scents that help you discover your personality and distinguish you from everyone around you with highly concentrated and long-lasting scents:
Soul Promise Ring perfume
1- Light watery fragrance with a pleasant scent that lasts for a long time.
2- Available in 3 types for women with various aromatic scents.
Perfume de la llama sweet cassis
A sweet fruity floral fragrance that starts with the scent of fruity flowers and ends with a refreshing floral scent with a touch of musk, sandalwood and white wood.
All Over Mist has a light and long lasting scent that you can use all over the body. Choose what suits your need, available in three scents.